Top Tips for Re-Styling Your Tee
T-Shirts… As a woman, I think you either love them or hate them.
With boobs, a belly and big ol' hips, I am personally not a lover! But with so many amazing ways to customise a t-shirt for events such as Pink Wig Night, it's much easier than you think to turn a t-shirt into a style that suits and compliments your shape.
Our Pink Wig t-shirts have come up smaller this year than in previous years but we will all just be ignoring what size is on the label, getting the next size up from what we would usually buy and then customising them ourselves.
LESS IS MORE!
Don't go mad with the scissors straight away, cut bit by bit until you're satisfied rather than cutting off a huge chunk right at the beginning.
STRETCH!
When cutting your t-shirt, make sure to stretch the material so you get a straight cut.
PRACTICE!
If you're not feeling too confident straight away then find an old t-shirt in your wardrobe or buy a couple of cheap ones from a charity shop and have a practice run first. Our committee member Michelle has plenty at her charity shop in Penryn for just 50p each for a kids tee or £1 each for adults! 
Here's what I hope is a helpful list of designs to make your t-shirt that bit more comfortable and a bit more stylish:
Sleeveless – Basic
This is probably the easiest customisation ever… just cut the sleeves off!
Sleeveless – Loose Fit
Just as easy as the previous but this time just cut the arms as low as you want them, slash the bottom and cut away the neckline.  Make sure you cut as close to the seam as possible to begin with and then you can repeat until you're happy with the fit. There's nothing more annoying than cutting the neckline too wide straight away; your tee won't stay on your shoulders!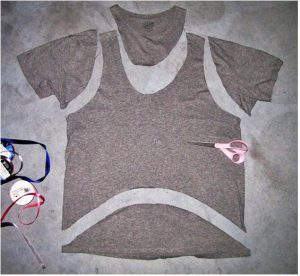 Sleeveless – Ribbon Back
The same as before with the simple addition of a pretty ribbon to tie the shoulder straps together, this will give you a lovely racerback style.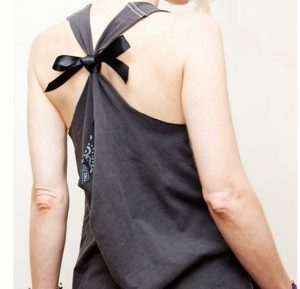 Festival Fringe
Fringing is super popular during festival season, so why not join in and get into the festival spirit by cutting the bottom of your t-shirt into thin strips of material. There's no rule on how thick to make the strips but from my own experience, the thinner the better!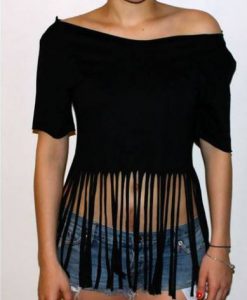 Cold Shoulder
Another popular style this season is the 'cold shoulder' which can be so easily replicated. All you'll need to do is fold the sleeves in half and cut a semi-circle out, you can make it as big or as small as you like but again, I would start off small and repeat until you're happy. For added effect you could cut the bottom of the sleeves and tie them into a little knot.
Halter Neck
This looks so effective but is so simple! All you need to do is cut about two thirds of the way around the neck line, as close to the stitching as you can. Stretch the rest of the neckline so that it gives  slouchy fit across the shoulders and pop your head through the 'halter' neck.
Our t-shirts are available to buy for just £10.50. We really hope you love this years design as much as we do; the hand prints are a reminder to check your boobies! T-shirts are available to purchase from Fat Willy's Surf Shack, Bow Accessories and Tava Salon.
As you can see from the photo below, we all choose to customise our t-shirts differently so they suit our own shape and our own style. I hope that this list has inspired you to get those scissors out and get creative. We can't wait to see what you come up with! And remember… ignore what it says on the label, just buy what makes you feel comfortable… we certainly will be!
See you on the 5th!
Naomi x