Volunteers' Week 2016
Volunteers' Week is an annual celebration of the fantastic contribution millions of volunteers make across the UK – and it's taking place from the 1-12 June 2016.
As part of this celebration we thought we'd give you all an insight into who Pink Wig Events is, and why we're part of this event many have come to love.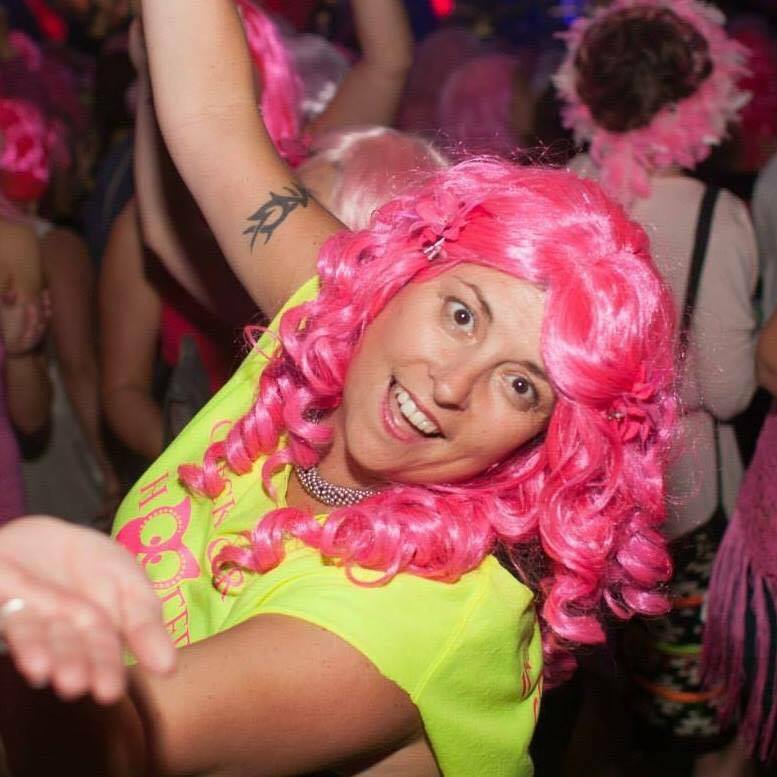 Why did you get involved? (Emma)
My reasons for getting involved with Pink Wig and the passion and drive that I have for it is easy for me, I have a very strong history of breast cancer with my mum dying of the disease aged 46 back in 1996. My mums sisters have both had breast cancer and their aunt before them. My paternal Nan also passed away with the disease as did one of her sisters and she has another sister that has survived. Hence my reasons for prophylactic surgery.
So when my dear friend Sally was diagnosed and Pink Wig was born it was an absolute no brainier to be involved and I am proud that I've been there from the conception! I've been privileged to be able to step into the role of Chairperson when Sal decided she wanted a step back from it all in 2014. Sally was our inspiration behind the desire to raise as much awareness and funds possible and I share that with her from my personal experiences with the disease – we as a team will strive to continue with that desire!
Emma xxx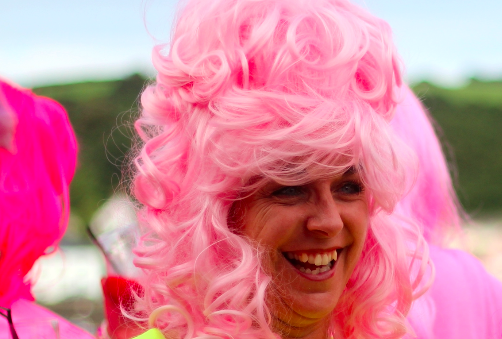 What are the time commitments? (Michelle)
Commitment of time is essential for any event to be successful.
Pink Wig Ladies Night grows every year; new ideas, new guidelines, bigger website & social media, more followers, the list goes on. Naturally time spent should increase too? You would think so, but being part of the Pink Wig committee is very much like being a family. We all have our part to play & know who's doing what, mucking in where necessary & supporting where needed. Each one of us, a cog in the Pink Wig clock.
We normally meet once a month with meetings being punchy & productive & actioned as necessary. In between meetings, social media keeps us all in the loop. On a personal level, each one of us have had life changing experiences, making us so aware of priorities in life & giving us focus, making us all passionate to achieve our goal and raise money & awareness to make a difference to the future.
Respect & honesty with each other makes us close, sharing tears, laughter & the odd glass of bubbly! Great ideas unfold & some really bad ones are squashed. Pink Wig is not about commitment of time as it is apart of us, in our hearts & who we are.
Once quoted "The Mighty Oak was once a small nut". Being a bit of a nut got us started, strong roots are planted & Pink Wig will continue to grow.
Where do you see Pink Wig going? (Sue)
Pink Wig has already ballooned from a group of friends on a night out in 2009 to our first event at Falmouth Week in 2012 before becoming what it is today.
After the initial success in 2012 of our first event at Falmouth's Events Square in the marquee with over 400 ladies attending and over £7,500 raised, Sally, along with her committee of friends were spurred on by the support and their achievement and discussed with the committee her thoughts of Pink Wig Events becoming regional, national and even global.
When we are all together our mojo reaches record heights, we all got carried away and thought this a real possibility. We then took a reality check and realised, we all hold down jobs, full and part time, the majority of us have families and other commitments away from Pink Wig and sadly realised we didn't have the time, money and resources for Pink Wig to become anything other than a local event. And so, we decided we would concentrate on Pink Wig Events staying local, staying in Falmouth BUT we would put as much time and energy into creating the best ladies night out in Falmouth and Cornwall possible, we would create a website, promote the event, get local companies behind us and hopefully build on the success of each event year on year, which we are proud to say we have done and will continue to do.
So long as the people of Falmouth continue to support us then we will continue to keep kicking cancers butt right here in our home county.
Sue Morant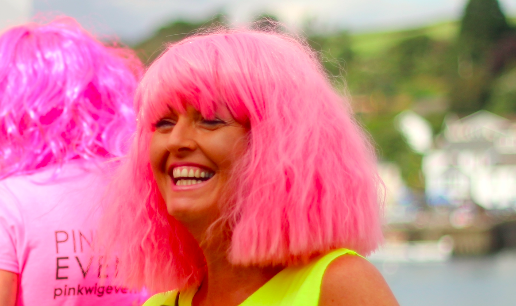 How has Pink Wig impacted you as a person? (Kath)
When I joined the Pink Wig Events' committee in 2010, I had no idea it would grow to become such a huge part of my life.
Nor did I foresee that such a simple idea, born from friends who wanted to and have fun, would evolve into the successful event it is today. I believe we owe this incredible success to the overwhelming support and generosity from not only the people in our home town, but beyond. We are never short of people offering their services, be it raise donations, sponsors, or even those who do a spot of clearing up at the end of our amazing pink soirees.
It really is a wonderful feeling to know that you are surrounded by people who are so keen to muck-in for a great cause. I am also extremely thankful that I get to be part of committee made up of some of the greatest people I know. Volunteering as a such a close team is extremely rewarding, and knowing that all of our hard work, crazy ideas, and huge amounts of laughter are part of the process of raising funds makes it such an incredible experience.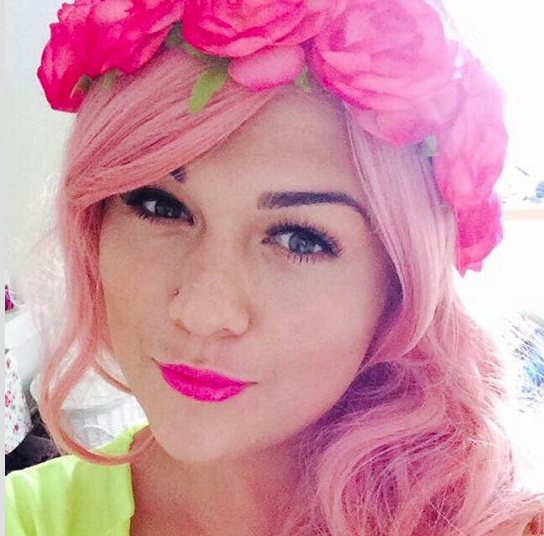 What has been the hardest challenge since starting? (Naomi)
When our founder and dear friend Sally Hicks-Wood passed away last May we all knew, without a shadow of a doubt, that we would continue her legacy of Pink Wig Events. However, turning sadness, heartbreak and grief into positivity and strength is a huge challenge; I feel this has been our biggest challenge to date and will continue to challenge us for years to come.
Losing loved ones to cancer has made us sad, angry, heartbroken, confused and everything else in between… but it has also given us the fire in our bellies; we would not do what we do if we didn't feel passionate about finding a cure for cancer so that future generations to come do not have to go through the same thing.
Losing Sally, and our other dear friends and family members, to cancer has been tough and we miss them all every day. Some days you just want to curl up under a rock and not come out for a little while, other days you want to stand on your rooftop and shout about how angry you are and ask 'why them?' but then you remember their strength and their fight and suddenly that sadness and anger turns back into passion and fire.
Dealing with our own personal emotions and our own personal feelings towards cancer will always be a challenge but knowing we are raising awareness, funding research and carrying on our Sally's legacy will always carry us through.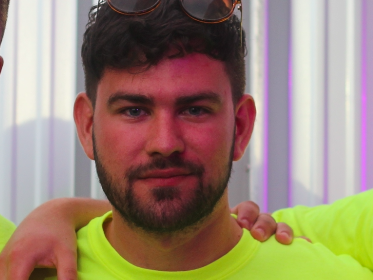 The biggest achievement so far? (Jay)
There have been so many amazing achievements over the years – from being invited and attending the House of Lords with what was Breast Cancer Campaign (now known as Breast Cancer Now) to receiving our Bronze and Silver awards as part of our fundraising efforts. These are just two of the standout moments over the years gone by.
In 2014, we won Best Regional Fundraising Event from Breast Cancer Campaign and not to mention raising over £55,000 in the process!!
However…
Every year we've seen Pink Wig grow from very humble beginnings to where it is now, with hundreds of local women turning out in the fight against breast cancer. To me, the biggest achievement is our ability to create what has become, the ladies night for Falmouth, for a common cause and that feeling of unity. Every year I say that walking through Falmouth town with over 500 women is like nothing I have ever experienced before, then the next year that feeling will be overwritten as we continue to grow.
It's that I believe is our biggest achievement, bringing together a town against a common cause (and having a bloody good night).